It seems lot of people have confusion how GST works on principle. I will try to explain as lucidly as I can in this thread!
Before going to GST
let's understand what was the existing tax system.
So 2 types of taxes were there:
A. Direct tax. B. Indirect tax.
Direct taxes are imposed on persons and are paid directly to Government. Prime example is Income tax.We have nothing to do with DT here!
Indirect taxes are imposed on Goods and services and are paid indirectly via 3rd person. Indirect taxes are levied by both centre and state!
Some major indirect taxes levied by center are
A. Excise duty B. Service tax C. CST D. Customs Duty
Similarly some major indirect taxes levied by state Governments :
A. VAT. B. Entertainment Tax. C. Luxury tax. D. Octroi/ Entry tax.
What did previous tax regime meant?
Confusion. Complexity. More charges at each tax slab level. Costly end product to consumer.
Now enter Goods and Service Tax ( GST). BY definition GST is a unified single point tax on goods n services.
What does it mean?
It means GST has replaced all the major tax levied by Centre and state ( apart from custom duty by center). Now imagine the implications!
All major taxes are gone now and replaced by 1 uniform tax.It simply reduces complexity and tedious nature of the previous tax regime.
 There will be two parts of GST :
A. Central GST : Everything except for customs duty is replaced by CGST
B. State GST : All replaced.
Benefits :
A. Economist says one uniform tax will add 2-3% to the GDP.
B. Removing cascading effect or Tax on tax : THIS IS IMPORTANT
Cascading effect : Simply what happens when you have taxes at different levels for one item? In a straight line method, you pay tax on tax!a single point like GST will immediately STOP that which means more money back into pockets off a wholesaler, retailer n final consumer.
GST will reduce flow of black money in country. It's common sense the lesser the tax slabs and complications, more easy to track BM.At every level off GST which is levied An invoice is must which can be trailed by Income Tax department anytime on demand to crack BM.
Biggest benefit of GST is socio-psychological. Creation of ONE INDIA, ONE MARKET. India was a scattered market previously now unified.octroi or entry tax for goods carriers and central sale tax(CST)previously levied will be abolished leading to smooth flow of transport.
 EASE OF DOING BUSINESS: previously any Entrepreneur used to register with multiple tax authorities,file many tax returns which will go!
Rate of GST are 5%, 12%, 18% n 28%. Essential items ( food grains) will be taxed at 0% Lowest (5%) rate for commonly used items.
 Two standard rates are 12% n 18%. Highest 28% will be for luxury item.
Certain items on which GST won't be applicable are Alcohol/ Tobacco/ petroleum products/ electricity bills.
Here is an example for anyone who knows basic maths to understand.This (8820-8680) – 140 is the pocket save from Manu. to Wholesaler!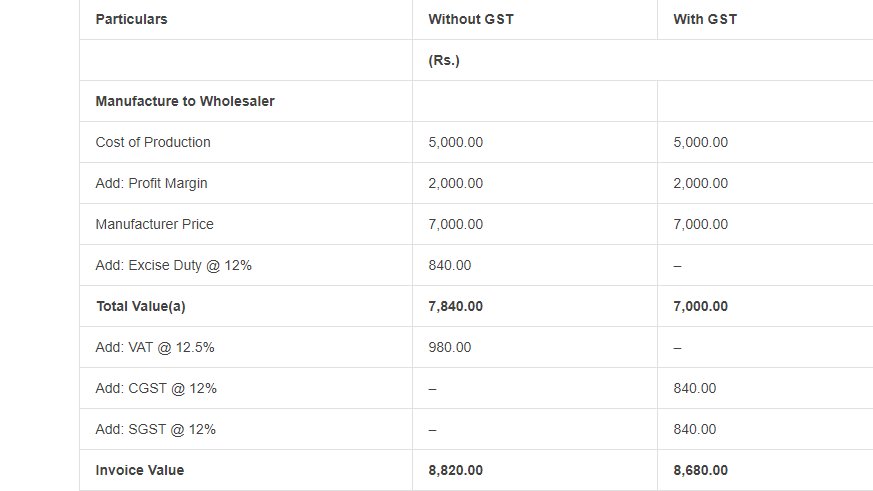 Hope you get it enough knowledge about GST.
You can ask any question related GST.!!
One Nation, One Tax.!